Presentations are designed to suit each group's timeframe, format and interest. They can be presented in person or online with or without PowerPoint.  They are designed to be fun, enjoyable, encourage questions and share information.
I am happy to offer the following organizing seminars - individually or as a package.
What's Stopping you from Getting Organized?

How to analyze and solve your disorganizing
There are many reasons why getting organized can be difficult. Does everything feel like it is in M.E.S.S.? Do you have too much S.T.U.F.F.? Why do you keep things? Do you know the steps to use to organize your space? Getting people organized is important to me because I sees how disorganization can cause stress, anxiety and overwhelm people.
I very much enjoyed your presentation today!  I really liked how you broke it up into parts with Q&A in between. It gave us all a chance to assimilate what you'd said and reflect on it before you added new information! I personally found that very helpful, as you were touching on many of my own "achilles tendons" around clutter and it gave me time to 'process and plan!'

And--you had a LOT of people there!!! Wow, it so well attended! So thanks very much for a great presentation, 

Glenys St Catharines. 
The Psychology of Clutter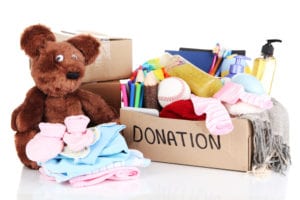 Techniques to declutter your space and life
Why do we acquire things and why it is hard to let go of things?  Discover how you feel about acquiring, owning and letting go of your stuff so you can start to develop a new mindset that will help you to declutter your space and life.
I have had the opportunity to hear Julie Stobbe present to her audiences on a number of occasions now and all I can say is that when she talks you really need to listen because you will learn more about how to organize your business and personal life every single time. When Julie speaks, I learn another life lesson on how to organize my time, my life and my home and office.  She also considers the mental barriers that sometimes keep people from being more organized and teaches her audience overcome those as well.  Julie knows that people usually organize differently depending on their personality type and works with them to organize according to their lifestyle.  She also has worked with many of my business associates and they are always very pleased with her services and the information she shares with them on how to stay organized.  I would highly recommend Julie Stobbe as a keynote speaker for any corporate business or social group. 

 Marie Mushing, People In Connection
Website Design, Business Networks, People Connector
Helping clients get great online visibility since 1997

Designing Your S.P.A.C.E.
Hassle free homes
Do you want to walk into your home and feel relaxed?  In this presentation I will reveal how to organize your Sort, Part with, Assign a place, Contain and Evaluate your S.P.A.C.E.
Downsizing Your Lifestyle

Getting Ready for the Future
Is it time to start reducing your possessions and you don't how to make those decisions? Learn how downsizing can make room for new and interesting experiences in your life.  See how easy it can be to reduce your clothing, collections, hobbies etc.
Other popular topics are
Partnering with a Professional Organizer
Designing an Active Office
Sell Your home and preparing to move
Work Life Balance
7 Habits of Very Organized People
Setting Realistic Goals
Topics are personalized to suit your group's interests.  Here are some groups where I have presented.
District School Board of Niagara
Hamilton Spectator
Business Education Council of Niagara
Michael DeGroote School of Medicine
Hamilton Insurance Association
Lincoln Chamber of Commerce
Real Estate Staging Association
Probus Group
Rotary Club of St Catharines South
Company of Women
"Nice presentation this morning. I actually came home and reorganized a few things. Will let you know when I get the tips book read. Thought the visual of the cottage property was awesome for a mindset of clearing a few things off my desk." – Patti, Brantford, ON

"Your presentation was very interesting, well thought out and presented beautifully. Job well done! Many thanks." – Laurie, Certified Staging Professional

"I really enjoyed your class, Organizing Your M.E.S.S.  I read all your material over again yesterday made a plan and today went into work and gutted my office!" – Anne, Hamilton, ON