This month I am reviewing a book to help you in downsizing yourself and probably someone else in your life.  Don't Toss my Memories in the Trash by Vickie Dellaquilia.
This book has very practical steps and suggestions for downsizing in many different types of situations. The person may be moving to a smaller house, an apartment, moving in with family members or to a senior's home.  In each situation, the person is losing something and must learn to adapt to a new living situation. They may need to get used to meeting new people, having less privacy, and being less independent.  This book guides caregivers to avoid pitfalls that can occur.
Here are 6 tips from the book
1. Giving up the family home is like losing a loved one.  When the family is gone the memories are all they have left.
2. Remember the goal is to get the parents resettled with the things they love that make them happy and comfortable.  It is not about the finances of selling stuff, emotional battles over a childhood or arguments between family members.
3. Consider how much energy and time you have for the job.  Children sometimes have a small window of opportunity to help and want to do it in a week when parents need to go more slowly. Get help with moving, selling items and removing junk you don't have to do it all yourself.
4. Have a goodbye ceremony with some family and friends to say farewell to the house.  Take pictures of things or videos of experiences in the home.  Then start packing up
5. Take pictures of how a room is set up, and how things are on the dresser or in the bathroom.  At the new place, you can replicate the situation so they can adjust more quickly.
6. Have sheets of packing paper and use them to simulate the furniture and assess what large items can be moved and where they will fit in the room.  A visual representation can make decisions easier.
This book covers: 
Timelines
How to start talking about the need to  move
How to start
What to take
Packing suggestions
What to ask a mover
Unpacking
Adjusting to the new home
It is a great, quick, easy to read resource.
Post a comment about the best tip you have for helping someone downsize.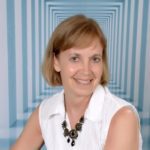 Julie Stobbe is a Trained Professional Organizer and Lifestyle Organizing Coach who brings happiness to homes and organization to offices, in person and virtually. She has been working with clients since 2006 to provide customized organizing solutions to suit their individual needs and situation. She uses her love of physical activity to reduce clutter, in your home and office. She guides and supports you to manage your time. If you're in a difficult transition Julie can coach you to break-free of emotional clutter constraining you from living life on your terms. Online courses are available to help instruct, coach and support your organizing projects. Get started by downloading Tips for Reorganizing 9 Rooms.
Contact her at julie@mindoverclutter.ca
Click here to learn more about her online course Create an Organized Home.
 Twitter – Facebook – Facebook group Organizing Mind and Space