Perhaps Spring Cleaning should be thought of as Winter Clean up.  To make your life easier start by sorting through the things you are going to store for next winter.  If they are:
broken, get rid of them
if they were not used donate them
if you have outgrown their use, clothing or toys, donate them
Sometimes donation sites will not take winter items in the spring.  If you are finding it hard to donate your winter items, box them up and label them to donate next winter.  When you see those items next winter they will be ready to leave your house making your life easier.
Now that your space is empty and ready for spring and summer items apply the same rules:
if they are broken, get rid of them
if you didn't use them last year donate them
if you have outgrown their use, clothing or toys, donate them
Donate these items early in the season so donation sites can sell them when people are looking for these types of items.
Finally, you have the things you want to use this spring.  Store them close to where you use them for example,
gardening items can be stored in the garage, a shed or near the backdoor
patio items, dishes, candles, table cloths, and napkins can be all stored together so it is easy to entertain
toys for playing with outside, chalk, bubbles, sand toys, trucks, bikes, scooters can be stored so it is easy for children to get them and put them away without help. This makes cleaning up before they come inside quick and easy.
Make your life easy by keeping only the things you need and love and find the best spot to store them so you can get them out quickly and put them away easily.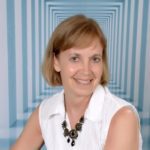 Julie Stobbe is a Trained Professional Organizer and Lifestyle Organizing Coach who brings happiness to homes and organization to offices, in person and virtually. She has been working with clients since 2006 to provide customized organizing solutions to suit their individual needs and situation. She uses her love of physical activity to reduce clutter, in your home and office. She guides and supports you to manage your time. If you're in a difficult transition Julie can coach you to break-free of emotional clutter constraining you from living life on your terms. Online courses are available to help instruct, coach and support your organizing projects. Get started by downloading Tips for Reorganizing 9 Rooms.
Contact her at julie@mindoverclutter.ca
Click here to learn more about her online course Create an Organized Home.
 Twitter – Facebook – Facebook group Organizing Mind and Space