How to not become a victim of identity theft
Here are some tips from Crime Stoppers published May 13, 2013
An estimated 10 million people each year become victims of identity theft. There are things each of us can do to help prevent becoming one.
Try not to leave mail in your mailbox for long.
When sending mail out that contains any kind of account information, it's best to drop it off directly into a postal box rather than leave it in your mailbox for your carrier.
Pay attention to when your regular bills or account statements are due to arrive and follow up if they are late. Thieves have been known to submit "change of address" forms to divert mailings. Your account information, including utilities, can then be used to set up phony accounts in your name or run up charges.
Virtually any document containing more personal identifiers than your name and address can be used by an identity thief and should be shredded. It can be stolen from your purse or wallet, your trash or even your home.
Be mindful of where you place bank and credit card statements within your residence if you employ outside help or are having work done inside.
When you are required or asked by a company to provide your Social Insurance number, don't be afraid to ask why they need it and what their policy is to protect it. Businesses are required by law to properly dispose of your personal information.
For more information, visit MichianaCrimeStoppers.com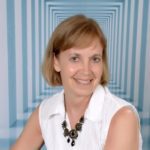 Julie Stobbe is a Trained Professional Organizer and Lifestyle Organizing Coach who brings happiness to homes and organization to offices, virtually using Zoom. She has been working with clients since 2006 to provide customized organizing solutions to suit their individual needs and situation. She uses her love of teaching to reduce clutter, in your home, office, mind and time. She guides and supports you to be accountable for your time, to complete projects and reach your goals. If you're in a difficult transition Julie can coach you to break-free of emotional clutter constraining you from living life on your terms. Online courses are available to help instruct, coach and support your organizing projects. Get started by downloading Tips for Reorganizing 9 Rooms.
Contact her at julie@mindoverclutter.ca
Click here to learn more about her online course Create an Organized Home.
 Twitter – Facebook – Facebook group Organizing Mind and Space