Use colour coding to organize your office space
Visual people find organizing to be more effective using different colours to represent different categories.  Other people find having too many colours to be visual clutter and distracting.  Colour can be used to motivate, grab your attention or calm your workspace. My guest blogger Jessica Pyykkonen from Quill.com explains how to use colour to organize your workspace with this infographic.
When the workspace becomes chaotic, colour may offer a solution.  Adapting a colour-coding system will organize your office and make it easier to track and access information.  Read about the psychological properties of colour, plus strategies to organize by colour. 
Conclusion
Colour coding is meant to make your work life easier. Assign colours before you start a new project and limit the amount to avoid confusion. You shouldn't have to spend time deciphering your colour code!
How do you use colour coding to keep yourself organized?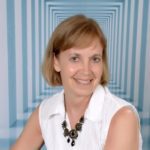 Julie Stobbe is a Trained Professional Organizer and Lifestyle Organizing Coach who brings happiness to homes and organization to offices virtually. She enjoys working with her clients to provide customized organizing solutions to suit their individual needs and situation. She reduces clutter, streamlines processes and manages time to help her clients be more effective in reaching their goals. Julie can coach you to break-free of the physical or emotional clutter constraining you from living life on your terms. 
Contact her at julie@mindoverclutter.ca
 Twitter – Facebook –  Facebook group Organizing Mind and Space 
Click here to learn more about working with a Professional Organizer.