5 Bathroom Organizing Tips
The bathroom has a lot of use by a number of people.  it is a high traffic area in the home. Use the space well in the bathroom to make storage efficient. Here are 5 tips to help make your bathroom function better and safely.
1. Have a drawer for each person who uses the bathroom to store his or her toiletries and cosmetics.  If you don't have the space to store items in the bathroom, give each person a basket to transport their things to the bathroom from his or her bedroom, where the basket is stored.
2. Purchase under-sink storage shelves or baskets to make good use of this under-utilized area.
3.  If medications are stored in the bathroom, safely store them where small children can't gain access.
4.  Store cleaning supplies safely, out of the reach of children, nearby so you can do quick cleans ups.
5.  Add hooks or towel bars to the walls or over-the-door racks/hooks to hang and dry towels after use.  Not enough room in the bathroom?  Install hooks or bars in the bedrooms.  This will keep towels off the floor, neat and clean.
Here is a link to a lovely informatic from Modern Bathroom to help you have a visual of organizing a bathroom.
If you need help organizing your bathroom book a 30 minute complimentary virtual assessment.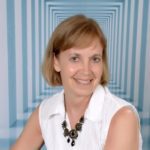 Julie Stobbe is a Trained Professional Organizer and Lifestyle Organizing Coach who brings happiness to homes and organization to offices,  virtually. She has been working with clients since 2006 to provide customized organizing solutions to suit their individual needs and situation. She uses her love of physical activity to reduce clutter, in your home, office, mind and time. Get started by downloading Tips for Reorganizing 9 Rooms.
Contact her at julie@mindoverclutter.ca
 Twitter – Facebook – Facebook group Organizing Mind and Space
Click here to learn more about working with a Professional Organizer?