For children of  parents who hoard, the mess remains after their parents pass away.
Newsweek  by Hannah R Buchdahl
"Greg Martin wasn't sure what to expect when his mother died last May, forcing him to return to his childhood home for the first time in nearly 18 years. The house, located on a pleasant block in San Diego, had always been cluttered, but now it was virtually uninhabitable. "There were piles as tall as me, six feet or so," Greg said. "Where there used to be floor, there were trails—a foot and a half high, so you'd be walking on stuff." Greg was forced to navigate through piles of magazines, papers, and books, plastic bags filled with thrift-store purchases, expired medicine bottles and literally tons of clothes. The only "living space" was a small pocket by the front door, where his mother, a colorful and fiercely independent woman, had collapsed shortly before her death at the age of 83. Greg, who has taken a leave of absence from his job, expected that cleaning out the house would take six months. It's now been eight—and counting."
Relatives are forced to put grief on the back burner and the emotions that surface are usually anger, frustration, guilt and depression.
Books
This book can help you to better understand hoarding even if you are not a professional organizer.
Clutter Scale
It can help to get information so you better understand the situation.  You can download a clutter scale at https://www.challengingdisorganization.org/clutter-hoarding-scale-
The Institute of Challenging Disorganization also has resources available and a directory of Professional Organizers that can help a family member who hoards.
Share your stories with us in the comments.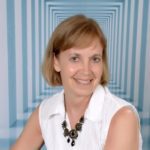 Julie Stobbe is a Trained Professional Organizer and Lifestyle Organizing Coach who brings happiness to homes and organization to offices, in person and virtually. She enjoys working with her clients to provide customized organizing solutions to suit their individual needs and situation. She reduces clutter, streamlines processes and manages time to help her clients be more effective in reaching their goals. Julie can coach you to break-free of the physical or emotional clutter constraining you from living life on your terms. 
Contact her at julie@mindoverclutter.ca
 Twitter – Facebook – Facebook group Organizing Mind and Space 
Click here to learn more about working with a Professional Organizer.