Grid It – A Great Organizing Gadget
Reading time 1 minute
I enjoy travelling and have travelled to Europe, the East, Australia, Canada, the United States and the Caribbean.
I am going to give 2 tips for travelling with an organized purse.  (It works for backpacks and briefcases too)
Buy a purse that has a light lining.  When the inside of the purse is dark it is very hard to find anything, organized or not.  A lot of items are black or dark in colour, make-up, pens, phones, keys, wallets etc.
Try purchasing a gadget called Grid It.  It comes in many sizes but the small one fits lovely inside a purse and keeps all the small items that you need for flying and travelling neat and tidy.  It is wonderful for holding a pen, earbuds, adapters, candy, phone, and keys.  You pull it out of your purse everything is contained on the Grid it and you pull out the items you need and put it back in your purse.  No digging around in the corners to find the thing you want.
How do you keep all your small items easy to find and use? Share your tips in the comments.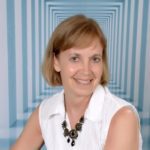 Julie Stobbe is a Trained Professional Organizer and Lifestyle Organizing Coach who brings happiness to homes and organization to offices,  virtually. She has been working with clients since 2006 to provide customized organizing solutions to suit their individual needs and situation. She uses her love of physical activity to reduce clutter, in your home and office. She guides and supports you to manage your time. If you're in a difficult transition Julie can coach you to break-free of emotional clutter constraining you from living life on your terms. Online courses are available to help instruct, coach and support your organizing projects. Get started by downloading Tips for Reorganizing 9 Rooms.
Contact her at julie@mindoverclutter.ca
Click here to learn more about her online course Create an Organized Home.
 Twitter – Facebook – Facebook group Organizing Mind and Space