How can I become a better housekeeper?
How can some people learn to be better housekeepers? The optimal word is learning.  Keeping a house organized is a skill that can be learned like any other skill, reading, skiing, or social media.  There needs to be a motivation to want to learn this new skill. If you can decide that adding organization to your life will make you feel less anxious about your home, provide you with a system that allows you to get everything done and still have time for yourself or live in a space that you love and enjoy you can take on the task of being less messy. So here are 3 tips:
Schedule everything. Decide when you will do each of the household tasks you are responsible for eg, laundry, grocery shopping, bill payments, meal preparation, driving children, cleaning, and doing the dishes. Look at your week and add it to your schedule and consider it an appointment with yourself and complete the task.

Make the space look better than when you started working in it. The old saying "if you get it out put it away" works. Don't set it down; put it back, in the desk drawer, in the dishwasher, in the laundry hamper, or in the refrigerator. In addition, put one more thing away too.  This helps you to slowly get rid of the "mess".  You are not creating more mess and you are reducing any mess that has accumulated. Your space will continue to look better.

Get help to be successful. You may find you don't have time to do it all yourself. Delegate it to other family members. At first, it may take longer to get things done as they learn how to do things.  Stick with it and soon it will no longer be your responsibility.  Hire help for the things that are the most difficult for you to complete.  You may want a cleaning service, lawn care service, share carpooling for your children or Professional Organizers.  Consider your budget; you may not be able to have them come every week but what if one service came each week?
At the end of each month you would have most things under control with the help of your scheduling, putting things away as you use them and involving others in sharing the work.  Tell me how you become better at keeping your house in order.
If you need help establishing routines to keep your home organized and clean book a complimentary 30 minute chat with me.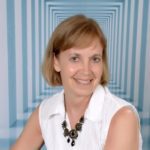 Julie Stobbe is a Trained Professional Organizer and Lifestyle Organizing Coach who brings happiness to homes and organization to offices, virtually using Zoom. She has been working with clients since 2006 to provide customized organizing solutions to suit their individual needs and situation. She uses her love of teaching to reduce clutter, in your home, office, mind and time. She guides and supports you to be accountable for your time, to complete projects and reach your goals. If you're in a difficult transition Julie can coach you to break-free of emotional clutter constraining you from living life on your terms. Online courses are available to help instruct, coach and support your organizing projects. Get started by downloading Tips for Reorganizing 9 Rooms.
Contact her at julie@mindoverclutter.ca
Click here to learn more about her online course Create an Organized Home.
 Twitter – Facebook – Facebook group Organizing Mind and Space