Organizing your photos, how many do you have?
Quick Tip: Estimating Photos from APPO
The association has changed its name to The Photo Managers
No need to count every photo in the box, especially if you are working with hundreds of printed photos for a job. Instead, use a ruler or a scale. Did you know 1 inch of printed photos stacked is about 100 photos? If you are estimating a shoebox packed full of printed photos, get your ruler out and measure the length of the box for a reasonable estimate of quantity. And 1000 photos weigh between 6 and 7 lbs, so set the tub of photos on a scale instead! APPO are the experts in photo organizing.

Quick Tip: Sorting Photos
Instead of trying to sort photos chronologically sort them by topics.  Photos tell stories. By sorting using topics you will get stories on vacations, cars you've owned, children's lives, pets, flowers, scenery etc.  Pick any topics that suits your life and start making piles.  As you're sorting, get rid of ones that are out of focus, duplicates, one you don't recognize the people or setting.
Scrapbooking, photo albums or photo boxes
Once your photos are sorted, label each pile by theme or date and store them.  You may want to do a scrapbooking project with them, organize them in photo albums or keep them in photo boxes.  I choose photo boxes for my pictures.  It was quick and easy to put each category in an envelope, label it and place them in a photo box.  I used the envelopes that the photos came in from the store and cut off the flap.  You can use more attractive envelopes and use colouring coding too.  You might just want to use dividers cut from cardboard or bought at a stationary store.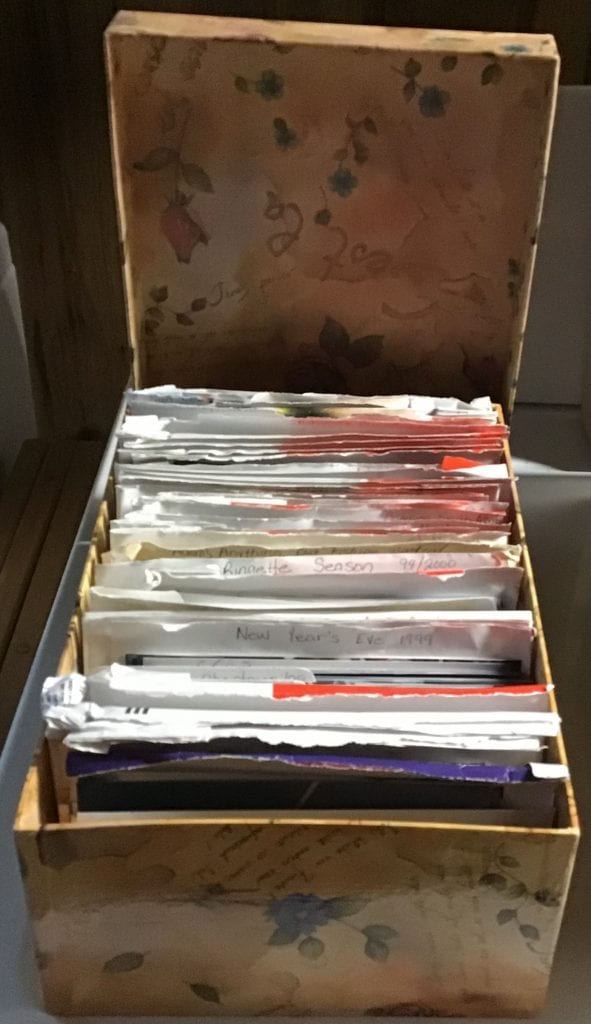 The boxes can be archive quality or from the dollar store.  I found they took up less space than photo albums and took less time to get the photos put away neatly.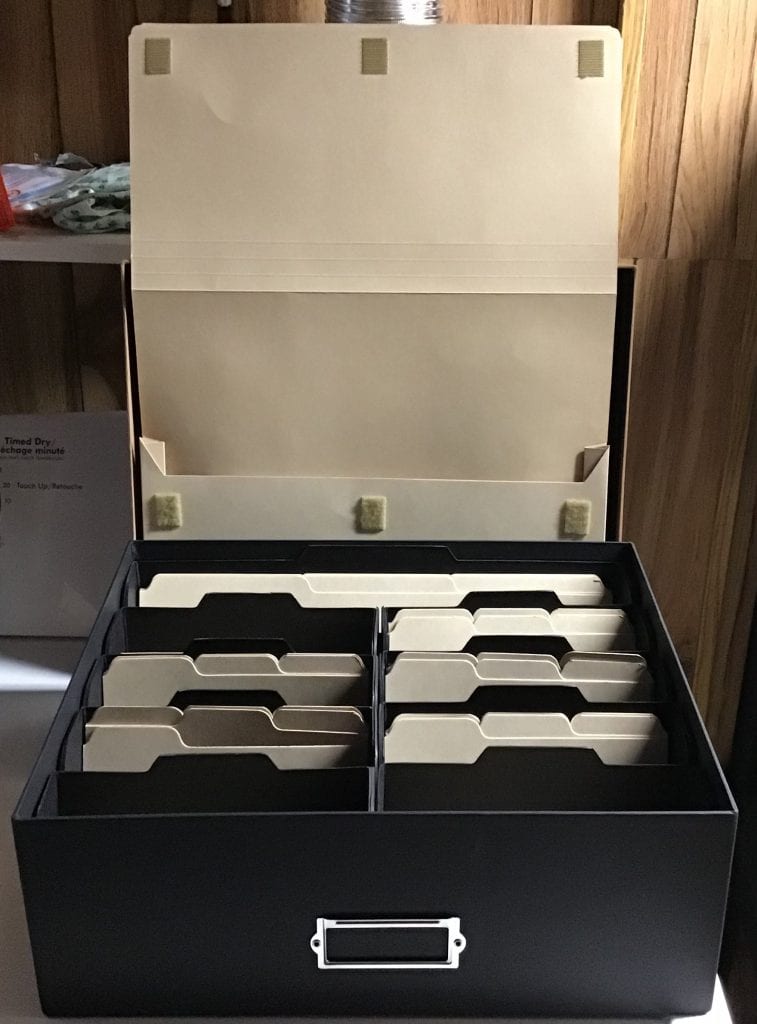 This box holds 4 x 6 photos, and panoramic photos and has an envelope for large (8 x10) photos.
To digitize or not to digitize?
Digitizing all your pictures may not get you the results you want.  They will take up less physical space but they will still be unorganized in the cloud or on your computer.  Digitizing your entire photo collection can be expensive. Use a reputable company so your photos don't get lost or damaged. I always suggest to my clients that they only digitize a small portion of their photos.  Selected the best of the best photos and put them in a folder with a title.   When you send them off to be digitized tell them to put it in a folder with the same name.  When you have them back in the cloud or on your computer you will be able to easily find them and enjoy them.  You may want to have them on a digital photo frame. If you want to share a photo or 2 or 3 with someone quickly, you can take a picture of the photo with your phone or tablet and send it to them.
Share how you store your photos.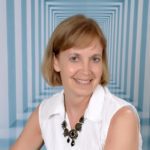 Julie Stobbe is a Trained Professional Organizer and Lifestyle Organizing Coach who brings happiness to homes and organization to offices,  virtually. She enjoys working with her clients to provide customized organizing solutions to suit their individual needs and situation. She reduces clutter, streamlines processes and manages time to help her clients be more effective in reaching their goals. Julie can coach you to break-free of the physical or emotional clutter constraining you from living life on your terms. 
Contact her at julie@mindoverclutter.ca
 Twitter – Facebook – Facebook group Organizing Mind and Space
Click here to learn more about working with a Professional Organizer.