Organizing your paper photos.
Have you run out of space on your walls to hang your pictures? Many people have photos in boxes just waiting to have time to organize them.  Don't wait for the perfect time or for a day when the weather is inclement. Schedule time to get started.
What to do first
As you look over the photos you may not be able to remember when you took the picture, the year or date.  Instead of organizing the photos chronologically think about using themes.  Sort your pictures into celebrations, vacations, family, friends, pets and homes etc.
Step two
Next, get rid of duplicates and out of focus pictures. Remove pictures where you don't recognize the people or location.  Once you have your best pictures grouped you may want to write on the back the name of the people in the picture, year or location.
Step three
Now you can decide if you want to scan them, place them in boxes with dividers or scrapbook your photos. Scanning can be expensive so scan the best of the best. You can digitize them yourself by taking a picture of the photo with your phone and saving it to a folder on your laptop.
Hire a photo organizer 
Photo Organizers work with clients to sort through images, find connecting themes, and neatly catalogue and edit them into photo narratives and albums that clients are proud to share – now and for years to come. Association of Personal Photo Organizers
Need more help
Enjoy spending time with your memories. If you need help regaining control of your photos and memories, I am ready to take on the challenge.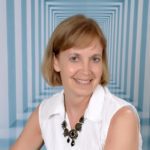 Julie Stobbe is a Trained Professional Organizer and Lifestyle Organizing Coach who brings happiness to homes and organization to offices, virtually using Zoom. She has been working with clients since 2006 to provide customized organizing solutions to suit their individual needs and situation. She uses her love of teaching to reduce clutter, in your home, office, mind and time. She guides and supports you to be accountable for your time, to complete projects and reach your goals. If you're in a difficult transition Julie can coach you to break-free of emotional clutter constraining you from living life on your terms. Online courses are available to help instruct, coach and support your organizing projects. Get started by downloading Tips for Reorganizing 9 Rooms.
Contact her at julie@mindoverclutter.ca
Click here to learn more about her online course Create an Organized Home.