Re-purpose your storage space
Harold Taylor's, Taylor Time Newsletter June 2015 gave this great advice on storage space.  I hope you enjoy it.
If you have more drawer space in your dressers and cabinets than you need, the number of items stored there will increase to fill the space available (Parkinson's Law).
When you sort through your belongings and donate or scrap the sweaters, blouses, scarves and other clothing items you never use, re-purpose the drawer for those non-clothing items that are causing your closets and other storage areas to overflow. You are re-purposing when you use closet hangar space to hang a shoe holder to free up floor space, or when you remove the bottom shelves of a linen closet to store your golf clubs or use a kitchen drawer to house your toolkit. Don't feel that you have to use all storage areas for the purpose they were originally intended.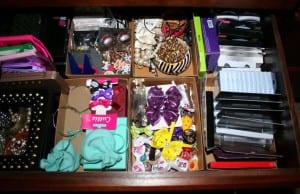 Julie Stobbe is a Trained Professional Organizer and Lifestyle Organizing Coach who brings happiness to homes and organization to offices, virtually using Zoom. She has been working with clients since 2006 to provide customized organizing solutions to suit their individual needs and situation. She uses her love of teaching to reduce clutter, in your home, office, mind and time. She guides and supports you to be accountable for your time, to complete projects and reach your goals. If you're in a difficult transition Julie can coach you to break-free of emotional clutter constraining you from living life on your terms. Online courses are available to help instruct, coach and support your organizing projects. Get started by downloading Tips for Reorganizing 9 Rooms.
Contact her at julie@mindoverclutter.ca
Click here to learn more about her online course Create an Organized Home.
 Twitter – Facebook – Facebook group Organizing Mind and Space
Click here to learn more about working with a Professional Organizer.