Reading time – 3 minutes
Organizing your home office can lead you in many directions.  Perhaps:
your inbox is inundated,
your files are filled or
your time management is missing.
You need to start somewhere so let's start with the S.P.A.C.E. that houses your office.
Look around your office and start:
1. Sorting the items that are visible into groups of papers, books, office supplies, client files, products, advertising materials etc.
2. Pair down each pile with the items that are current and recycle or shred the rest.
3. Assign a convenient place to store your resources.  If you use them often keep them near your desk, if they are used infrequently store them further away but still in your office.  If they are never referred to but are needed for tax or legal purposes they can be stored in another room.
4. Take each of those piles and select the best Container for keeping the items organized, binders, magazine holders, bins, boxes etc.
5. Evaluate your new S.P.A.C.E. to make sure it will help you be more efficient, productive and profitable this year.
Share one of your office organizing tips in the comment box.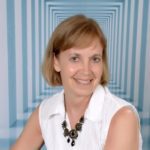 Julie Stobbe is a Trained Professional Organizer and Lifestyle Organizing Coach who brings happiness to homes and organization to offices,  virtually. She has been working with clients since 2006 to provide customized organizing solutions to suit their individual needs and situation.  She guides and supports you to manage your time, and projects and reach your goals. If you're in a difficult transition Julie can coach you to break-free of emotional clutter constraining you from living life on your terms. Online courses are available to help instruct, coach and support your organizing projects. Get started by downloading Tips for Reorganizing 9 Rooms.
Contact her at julie@mindoverclutter.ca
Click here to learn more about her online course Create an Organized Home.
 Twitter – Facebook – Facebook group Organizing Mind and Space