Taking back your master closet
Today I have a guest blogger, Haley Kieser of Zog Digital. She always shares an inspiring fresh approach to freshening up your home.
Organizing a master closet is one of those tasks that usually comes last on the list. Master closets are often where extra things get stored to be dealt with later. Instead of putting off this chore, make your closet functional right now by planning out what you're going to do and then tackling the make-over.
Clean-Up
Take everything out of the closet. You won't be doing yourself any favours if you tackle this project with all the things still in it, or by doing part of it at a time. You need to get a fresh start.
While everything's out, do some paring down. You can use the Marie Kondo method, ask yourself these questions, or simply choose to get rid of items that you haven't worn in a year or more. If none of these get you to the point of decluttering, consult with a professional organizer.
Lighting
Next, make sure there's a bright light near or inside your closet so you can easily see your clothing. This may mean simply placing a lamp close by, or if you have the room, installing a light inside. If there's no existing fixture, you can either hire an electrician to run the wiring inside or choose a wireless lighting option. There are many strong, high-quality LED lights that you can add. Choose the center of the closet as placement for a larger light or pick two or three smaller ones to provide plenty of light across the board.
If there's already a light inside the closet, consider whether it's bright enough and whether you like the fixture aesthetically. This is the time to choose something decorative that goes with your personal style, like a fun crystal piece.
Paint
A new coat of paint makes a huge difference inside a closet. Not only will it rid the walls of the wear and tear closets always get, it will also make them seem bigger and brighter. First, pick a shade and finish. WOW 1 Day Painting suggests using semi-gloss paint. This is a shiny finish that reflects light better than satin or eggshell, so you can better see your clothes. Choose a light-toned colour. It doesn't have to be white but go for the lightest colour in your chosen colour family.
Organizational System
Decide whether your current shelving and clothing rod system is meeting your needs. Perhaps you want more shoe storage or don't have enough space to hang your clothes.
Measure your closet both horizontally and vertically and sketch out a plan. You can do this on paper (graph paper works best) or use a software tool. When planning, keep in mind that generally, you want to have the things you use every day at your eye level. Little-used clothing, like formal dresses or overcoats, can go in a less-reachable space.
Consider whether or not you like to hang up or fold most of your clothes. If you like to fold them, then you'll want shelves or drawers more than you want closet rods. Allow 40-42 inches of vertical space for hanging clothes.
There are lots of mostly pre-made closet systems available at home improvement stores these days. These come in single or multiple components, so you can mix and match them for your needs. For instance, if you have a lot of purses, you may want to install cubbies. The good thing about these systems is that they're easy to install with some basic tools and are already painted.
You can also make your own shelving or hire a professional to do it. If you're making your own shelving, then you'll want to do this step before the paint, so you can paint everything at once.  You'll also need some higher-level handyman skills and tools like a table saw to do the job well.
Accessorize
Even if you don't have much room, you can choose some things like fancy closet hooks to give your space some personal flair when you hang up necklaces and robes. A small chair or pouf to sit on is both practical and can reflect what you like.
Now that your closet system is in place, you can put all your clothing and accessories back. A functional closet is a lot more fun to use, and the organization system will make it easy to keep neat.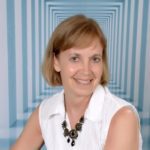 Julie Stobbe is a Trained Professional Organizer and Lifestyle Organizing Coach who brings happiness to homes and organization to offices,  virtually. She has been working with clients since 2006 to provide customized organizing solutions to suit their individual needs and situation. She uses her love of physical activity to reduce clutter, in your home and office. She guides and supports you to manage your time. If you're in a difficult transition Julie can coach you to break-free of emotional clutter constraining you from living life on your terms. Online courses are available to help instruct, coach and support your organizing projects. Get started by downloading Tips for Reorganizing 9 Rooms.
Contact her at julie@mindoverclutter.ca
Click here to learn more about her online course Create an Organized Home.
 Twitter – Facebook – Facebook group Organizing Mind and Space