To Pinterest or not to Pinterest
Pinterest can be a great resource.  It has ideas on how to organize everything and anything.  It has DIY solutions in all price ranges and skill levels.    Pinterest is a good resource for visual learners, you see the design on your screen.
So why don't I like it? 
The problem that arises for me, as a Trained Professional Organizer, occurs when clients see something on Pinterest and ask me to create that system for them.  Just because it is on Pinterest doesn't mean it is the right solution for you.  It is the right solution for the person who posted it.
Evaluate the idea and think about how you do things before you copy it.  Just because you like the way it looks or because it is trending doesn't mean it will work for the way you think and do things.  Deciding how to organize your books, jewelry etc needs to be done in a way that you can find what you need when you need it and in a timely manner.
Organizing your books by colour looks great on the wall, will you be able to find the book you need?  If you did it with a small number of books or only pick 2 or 3 colours of books you could adapt the idea and make it work.
If you organize your jewelry hanging it from the horizontal bar of a hanger using binder clips to attach the jewelry may be a good solution if you don't have a lot of jewelry.  If you hang all your jewelry and then slide the hangers on a rod to look for a certain piece of jewelry the jewelry might become tangled as they sway when the hangers are moved. How would you attach your rings? You might end up this your jewelry stored in many different locations and not be able to find what you want.

A recipe may look great.  Is it something you can make in a big batch and freeze so you can get 2 meals for the time you are spending in the kitchen?  Are the ingredients something you have in your cupboard or will you need to make an extra trip to the store?
Enjoy using Pinterest use it wisely to help you save time, money and effort.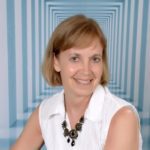 Julie Stobbe is a Trained Professional Organizer and Lifestyle Organizing Coach who brings happiness to homes and organization to offices, virtually using Zoom. She has been working with clients since 2006 to provide customized organizing solutions to suit their individual needs and situation. She uses her love of teaching to reduce clutter, in your home, office, mind and time. She guides and supports you to be accountable for your time, to complete projects and reach your goals. If you're in a difficult transition Julie can coach you to break-free of emotional clutter constraining you from living life on your terms. Online courses are available to help instruct, coach and support your organizing projects. Get started by downloading Tips for Reorganizing 9 Rooms.
Contact her at julie@mindoverclutter.ca
Click here to learn more about her online course Create an Organized Home.
 Twitter – Facebook – Facebook group Organizing Mind and Space