Back to school – making homework easy
Reading time: 3 minutes
No more arguments, plan the best time to do homework. 
Helping your child to be successful with their homework is about planning.  Plan a time when your child can concentrate and an adult is available to lend support to the task.  Some children will be able to do homework right after they finish school other children will need time to do some physical activity  before they can concentrate and yet other children will need to eat first.
Plan the best space for doing homework 
You will need a spot that has limited distractions, minimize stimulation from video screens and phones and reduce loud conversations with other family members in the homework area.
Plan a schedule for completing large projects 
Large projects take more than one night to complete.  Help your child learn how to plan ahead.  Look at the week and weekend and see what time is available to work on the project.  Divide the project into smaller sections that can be completed a little at a time during the week and on the weekend.  At first it takes a lot of discipline from the parent and the child but as the family gets used to planning ahead your child will tell you that they need your help with some homework and the only night you are both home is Wednesday.  It will be great when they take over the time management of homework.
Each child will be different, some will like quiet spaces and others will like to be around people. Some tasks will need large spaces and others will need hardly any space.
Click To Tweet
Have a portable homework station that can move with you. 
Many families have shared custody of children between parents and some families are always on the move taking children to after school events where children need to do homework while they are waiting for siblings to finish an activity.
Taking into consideration all the variables, homework areas need to be portable.  Children need have a container with all the pens, pencils, markers, erasers, rulers, a stapler, tape, glue, paper, calculator etc. they need.  This container can be used in any room in the house allowing for flexibility.  Let your child organize the container since they know what they need.   This container can be put in the car and taken along to activities, babysitters, parent's homes.  It is important that children have the supplies they need and learn to take care of them so they can get their work done.  If you choose to have one room or area for homework make sure to consult your child about what it should look like so they want to work in that area.
Share your tip for making homework an enjoyable experience.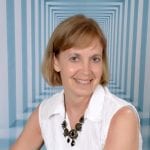 Julie Stobbe is a Trained Professional Organizer and Lifestyle Organizing Coach who brings happiness to homes and organization to offices, in person and virtually. She has been working with clients since 2006 to provide customized organizing solutions to suit their individual needs and situation. She uses her love of physical activity to reduce clutter, in your home and office. She guides and supports you to manage your time. If you're in a difficult transition Julie can coach you to break-free of emotional clutter constraining you from living life on your terms. Online courses are available to help instruct, coach and support your organizing projects. Get started by downloading Tips for Reorganizing 9 Rooms.
Contact her at julie@mindoverclutter.ca
Click here to learn more about her online course Create an Organized Home.
 Twitter – Facebook – Facebook group Organizing Mind and Space