Filing options to keep your papers organized
Many people feel the only way to file paperwork is in a filing cabinet in filing folders.  I like to say some people file horizontally using files and something to hold them. While other people use files and stack them vertically.  Both types of people are doing the same thing in a different direction. Are you a filer (horizontal hanging files) or are you a piler ( vertically stacking files)?  Learn about 5 ways you can keep your paperwork controlled.
1. Traditional Filing Cabinets
They come in many sizes and colours.  Make sure to get one with drawer sliders so you can easily reach the back of each drawer.  Some come with locks others do not.  They can be vertical or horizontal.  Horizontal cabinets provide a space to set things on, a printer, a plant etc.  You can buy a stand that has wheels to set under the filing cabinet to make it easier to relocate.
2. Binders

 
Binders are a good solution for visual people.  You can have them on a shelf and easily see all your files.  The binders can be colour coded to make it simple to find the correct binder. Use dividers, pocket dividers or sheet protectors to file papers. Set up the categories you need:  household bills, bank statements, warranties etc.  Some binders also have a set of accordion files attached to the binder.  Here is a review of this product.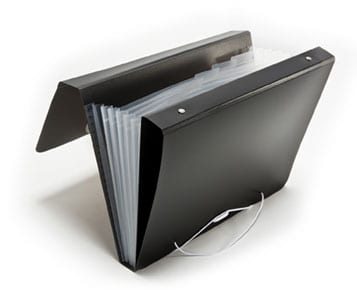 3 Rolling Crates/ File Boxes on Wheels.

 
Use hanging folders and file folders. The advantage to this is you can take them to whatever room you want and the top is open so you can see the files easily.  With the crates, you can stack them for easy storage. 
4. Expandable Files
Use one section for each category of paperwork. For example household bills, income tax, financial documents,  insurance policies, warranties, etc.  They are great to have one for each member of the family to store papers relating to them, report cards/school documents, immunization/health records, passport and other documents, certificates etc.  You can also colour code these files.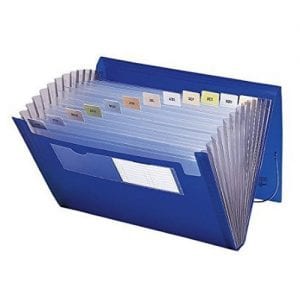 Some come with special hooks so you can store them in a filing cabinet or crate.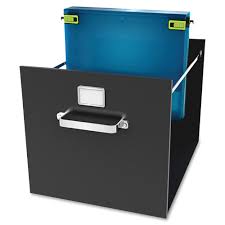 5. Magazine holders
Magazine holders come in paper and plastic.  They are available in many colours and patterns. Try to buy ones with solid sides so papers will not get caught and it can be hard to slide in.  Use a holder for each category of paper you need to file.  You can colour code your systems making it easier to quickly access the files you need.  You can turn them so the spines are facing out, and label them, to reduce the visual clutter of seeing all the papers in each box. 
What is your preferred method for filing paperwork?  Tell me about your system.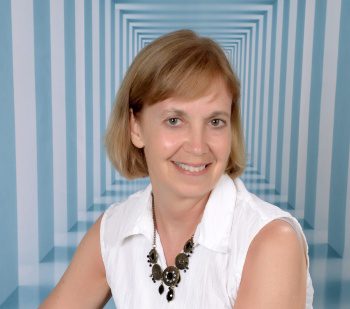 Julie Stobbe is a Trained Professional Organizer and Lifestyle Organizing Coach who brings happiness to homes and organization to offices, virtually using Zoom. She has been working with clients since 2006 to provide customized organizing solutions to suit their individual needs and situation. She uses her love of teaching to reduce clutter, in your home, office, mind and time. She guides and supports you to be accountable for your time, to complete projects and reach your goals. If you're in a difficult transition Julie can coach you to break-free of emotional clutter constraining you from living life on your terms. Online courses are available to help instruct, coach and support your organizing projects. Get started by downloading Tips for Reorganizing 9 Rooms.
Contact her at julie@mindoverclutter.ca
Click here to learn more about her online course Create an Organized Home.
 Twitter – Facebook – Facebook group Organizing Mind and Space