Moving a student to school – 5 bathroom organizing tips
Make everything as portable as possible.   It may have been a while since your child had to share a bathroom and/or not had a bathroom attached to their bedroom.  Here are some tips.
1. Have a basket for transporting all shower items from their room to the bathroom. The basket should have ventilation so it will dry out and not get moldy.
2. In some residences, the students need to supply toilet paper.  Extra supplies can be stored under the bed. Send all shower essentials shampoo, conditioner, soap, shaving, etc in a convenient portable size.
3.  Include over the door hooks that the student can use to hang their towel while showering so it is convenient and useful in their room to hang the towel to dry.
Make everything as portable as possible so it is quick to pick up and go and easy to put away.
Click To Tweet
4. Send a bathrobe.  They may not use one at home but might find it useful at residence.  Pack one that they will wear not one that has been around for a long time.
5. Send 2 bath sheets and 2 or 3 hand towels and 2 washcloths. Don't send red towels that will turn a load of laundry pink, if they wash their towels.
Need help planning how to organize your dorm room? Book a 30 minute complimentary virtual appointment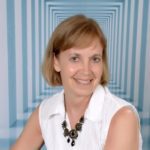 Julie Stobbe is a Trained Professional Organizer and Lifestyle Organizing Coach who brings happiness to homes and organization to offices, virtually using Zoom. She has been working with clients since 2006 to provide customized organizing solutions to suit their individual needs and situation. She uses her love of teaching to reduce clutter, in your home, office, mind and time. She guides and supports you to be accountable for your time, to complete projects and reach your goals. If you're in a difficult transition Julie can coach you to break-free of emotional clutter constraining you from living life on your terms. Online courses are available to help instruct, coach and support your organizing projects. Get started by downloading Tips for Reorganizing 9 Rooms.
Contact her at julie@mindoverclutter.ca
Click here to learn more about her online course Create an Organized Home.
 Twitter – Facebook – Facebook group Organizing Mind and Space