Organize your desk to make the impression you are a leader
Do you want your desk to say you are a leader, hard worker, and creative? Could your desk say that you are messy, boring, and behind the times? Let your workspace be your business card.  You may have a physical office or a portable office, organize it to suit your needs so you can work efficiently, and show your clients that you are knowledgeable and a leader in your field.
Technology
Use technology that helps you accomplish your business.  Having state of the art technology that you don't understand and can't use competently or having outdated technology will give your clients the wrong impression.  Purchase the technology that is right for you and your budget. Don't fall into the trap of buying technology that is more powerful than you need to make a "good" impression. Clients may feel like you are showing off. Show your clients that you are knowledgeable, prepared appropriately and ready to lead them through the task at hand.
Desk Photo /  Screen Saver
Use a photo that lets your clients learn something new about you. Make yourself memorable to your clients. Make sure it is in good taste, you want to make a professional impression on your potential clients.  Be authentic, not boring. An interesting screen saver on your laptop will have the same effect.   
Business Cards
Have them close at hand so you can give them out at the appropriate time.  You don't want people to take them because they feel obligated, you want them to have them because they are interested in you.  Make sure your business card is professionally designed.  If you want to show you are a leader don't use the free sites.  Make sure they are readable, scannable, classic and interesting.   Good supplies show that you value quality and do quality work.
Piles on Your Desk / Piles of Paper in your Bag
This relates to your organizing style.  Too many piles gives the impression you are behind in your work and may not be able to help your clients in a timely manner.  The perfect office will make some clients feel uncomfortable because they will feel like they are not good enough to work with you.  Determine how you function best, piles, filing cabinets, trays, desktoppers.  Remember to keep loose papers neatly piled or stored in the way that works best for you. Lead by example, if you are prepared to work then others follow your work ethic making it easier to accomplish the job on time.
Lighting
When you enter your office is it dark and stark or bright and light? What does that say about you?  I don't care, I don't notice details or  I am open and I want you to be comfortable.  Adding lighting to your office can make the space more inviting, and interesting and make it easier for clients to read information.  If you are dealing with an older population eyesight can be declining. Good lighting makes it easier for them to engage with the information.  The more ways you show your clients you understand their needs the more likely they are to trust that you are an expert.
Books
Keep up with popular books in your industry, even if you don't find them interesting.   Your clients may ask you about them.  You want to be able to make a  comment that helps them to understand the value of the book or article. You can also display a few books to show your clients that you have diverse interests in intriguing topics.  It shows them that you like to expand your knowledge.  Leaders develop many skills not just the ones directly related to their business. Skills and knowledge learned from others make you a better leader.
Pictures on the Wall
Displaying your certification and education reassures clients of your expertise.  But a wall full of outdated certificates may not give the best impression.  Have a couple that shows your current accomplishments. You want your clients to know you value education and keeping current is important.
Try to Avoid
Leaving your unfinished lunch on display
Having your desk cluttered with staplers, pens, tape dispensers, post-it notes, etc.  Keep them in your desk drawer or in a box.  Have your desk say that you are a leader and expert.
Silly objects, you are trying to show your clients that you are a leader, not the funny one.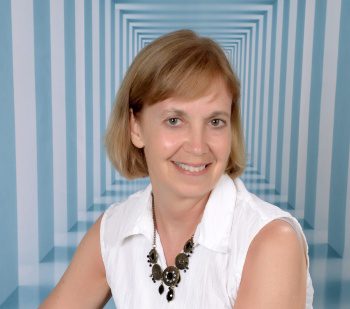 Julie Stobbe is a Trained Professional Organizer and Lifestyle Organizing Coach who brings happiness to homes and organization to offices, virtually using Zoom. She has been working with clients since 2006 to provide customized organizing solutions to suit their individual needs and situation. She uses her love of teaching to reduce clutter, in your home, office, mind and time. She guides and supports you to be accountable for your time, to complete projects and reach your goals. If you're in a difficult transition Julie can coach you to break-free of emotional clutter constraining you from living life on your terms. Online courses are available to help instruct, coach and support your organizing projects. Get started by downloading Tips for Reorganizing 9 Rooms.
Contact her at julie@mindoverclutter.ca
Click here to learn more about her online course Create an Organized Home.
 Twitter – Facebook – Facebook group Organizing Mind and Space