Organizing, why not repurpose an item instead of buying something new
Reading time – 2 minutes
In my travels, I have seen some great organizing ideas and products.  Most of them can be created using items you already own. Save money, have fun and create a solution to an organizing problem.
Re-purpose an  item and use it in a new way
On my trip to Vancouver, I learned about this idea. Here is a silver chest.
It now holds makeup.  My daughter-in-law invented this creative solution.
Stack 2 tables to create a great look 
I traveled to Iceland with my 92 year old Father.  A coffee shop had these versatile coffee tables.
They can be easily separated to give more tables, slide overtop of each other to leave more floor space and provide 2 different height tables at the same seating space. Imagine how you could create this look at your home with 2 tables.
Use stacking bins for laundry
When I was in Yellowknife I saw these great stacking laundry bins
They use vertical space so take up less floor space and can easily be separated to take to the laundry room.  The thing I liked is that you can put items into the bottom bin without removing the top bin.  If you have some bins around the house try using them for your laundry.  You may need to set one across the other in an X pattern to be able to stack them.
1 in 4 garbage can
While staying in a hotel in Ontario I noticed this great recycling idea.
It made recycling very easy.  It was all in one place, the corners were labeled so you knew where to put your cans, paper, garbage and glass. You can easily make dividers for the garbage cans for bedrooms. It would make collecting the garbage easy, only one container, and it would be sorted and ready to add to the larger containers going out to the curb.
Shoe Organizers are Versatile
When I was in Bermuda I saw one in a bookstore used to organize maps.  The pockets are large and the organizer can be hung over a door, mounted on a hanger and put in a closet or fastened to a wall.
Re-purpose a piece of furniture
Using furniture in a new way can be fun. Use old furniture as storage and save money not buying bins.  Back at home, this used to be a buffet.
It holds our CD collection perfectly. I knew I would not have room to use it in the eating area but by the entertainment equipment it keeps CDs and gaming equipment neat and organized.
I went to the Canadian National Home Show, check out this blog post for more creative organizing ideas. What' new at the home show?
Share your creative organizing solutions in the comments below.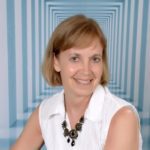 Julie Stobbe is a Trained Professional Organizer and Lifestyle Organizing Coach who brings happiness to homes and organization to offices, in person and virtually. She has been working with clients since 2006 to provide customized organizing solutions to suit their individual needs and situation. She uses her love of physical activity to reduce clutter, in your home and office. She guides and supports you to manage your time. If you're in a difficult transition Julie can coach you to break-free of emotional clutter constraining you from living life on your terms. Online courses are available to help instruct, coach and support your organizing projects. Get started by downloading Tips for Reorganizing 9 Rooms.
Contact her at julie@mindoverclutter.ca
Click here to learn more about her online course Create an Organized Home.
 Twitter – Facebook – Facebook group Organizing Mind and Space