Reading time:  2 minutes
Success in doing laundry starts with packing the right clothes. When packing for college or university stay away from white clothes, they will turn grey and red clothes that will turn everything pink.  Leave them at home. Pick clothes that can survive a washer and dryer.  There won't be much hand washing of clothes.Discuss who is responsible for doing laundry before your student leaves for university. Click To Tweet
1. Practice
 If your student has not done laundry at home use the last week or two before they leave to teach them how to use a washer, sort laundry, empty pockets and use a stain remover. If they bring their laundry home from school it is a good time to team them how to do it
2. Money
Find out if the washers and dryers need coins or if money is put on a plastic swipe card.  Put some money on the card or send coins to get them started and into the habit of doing laundry.  It is a good investment for both parents and students.
3. Laundry " Basket"
Provide a central collection area for their laundry in their room.  It might be on the back of a door or chair, a bin or bag in the closet. It needs to be portable so they can move it easily to the Laundromat which may be on another floor.
4. Supplies
Buy liquid laundry detergent because it dissolves quickly and comes in small bottles. It is better to have a supply of small bottles than a large one which is heavy and hard to take to the Laundromat.  Buy fabric sheets for the dryer as the student will probably never be there for the rinse cycle.
5. A place to hang damp clothes
Have a place to hang up clothes – a line, door hooks or a free-standing wire rack in their room for things that are damp or that they don't want to put in the dryer.
6. Who does the laundry, parent, student, home or at school?
Decide if you will do their laundry when they come home on weekends. Set the policy early so there are no surprises.
Share your experience about laundry successes and failures.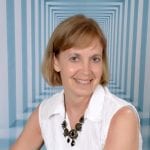 Julie Stobbe is a Trained Professional Organizer and Lifestyle Organizing Coach who brings happiness to homes and organization to offices, virtually. She has been working with clients since 2006 to provide customized organizing solutions to suit their individual needs and situation. She uses her love of physical activity to reduce clutter, in your home and office. She guides and supports you to manage your time. If you're in a difficult transition Julie can coach you to break-free of emotional clutter constraining you from living life on your terms. Online courses are available to help instruct, coach and support your organizing projects. Get started by downloading Tips for Reorganizing 9 Rooms.
Contact her at julie@mindoverclutter.ca
Click here to learn more about her online course Create an Organized Home.
 Twitter – Facebook – Facebook group Organizing Mind and Space