Organizing your smaller space to feel like a bigger space
Reading time – 3 minutes
My guest blogger this week is Making Your Small Space Feel Bigger from Downtown Apartment Company
Last week I reviewed a book that helps you to downsize the items in your home.  Once your home is decluttered and organized a few design elements can make your room feel more spacious.  It is important to organize your home so it suits your personality and lifestyle.  As design is is not my strength, I invited a guest blogger, Downtown Apartment Company,  to share a design graphic to help you with making your smaller space feel larger.
There aren't many of us that live in a place that is as big as we'd like. We have to work with what we got. Luckily, there are ways to make your place feel bigger without adding any square footage. Coping with a smaller living space can be done with a few easy steps.
Using elements of design and psychology, you too can make your small place feel like a big space!
No matter the size, there are a lot of simple yet effective techniques and tricks you can do to really open up your place and make it feel roomier. An example is altering the colours, textures and patterns of your home. Changing the overall design is a fundamental way to affect how people will feel in it.
Using a monochromatic colour palette, for example, will make a room feel more airy and open, compared to a room with loads of contrast. Accenting your room with light fabric curtains and furniture with long, thin legs will also add to the impression that your place is bigger than it really is. Decorating your walls with striped elements will guide the eye horizontally or vertically to creating the feeling of additional height or width, as well.
Accepting your small space doesn't have to mean feeling like you're always trapped in a phone booth. Mastering the design elements below will help you and others feel less claustrophobic and more like the place you've always dreamed of.
Have I missed anything?  In the comments let me know how you make a space feel larger.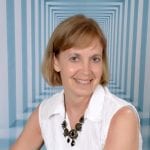 Julie Stobbe is a Trained Professional Organizer and Lifestyle Organizing Coach who brings happiness to homes and organization to offices, virtually using Zoom. She has been working with clients since 2006 to provide customized organizing solutions to suit their individual needs and situation. She uses her love of teaching to reduce clutter, in your home, office, mind and time. She guides and supports you to be accountable for your time, to complete projects and reach your goals. If you're in a difficult transition Julie can coach you to break-free of emotional clutter constraining you from living life on your terms. Online courses are available to help instruct, coach and support your organizing projects. Get started by downloading Tips for Reorganizing 9 Rooms.
Contact her at julie@mindoverclutter.ca
Click here to learn more about her online course Create an Organized Home.
 Twitter – Facebook – Facebook group Organizing Mind and Space
Click here to learn more about working with a Professional Organizer.