Re-purposing unused items to get organized
Reading time – 3 minutes
When you are sorting through your items,  unused items may need to go to the garbage, recycling or can be re-purposed.  Finding a new life for your things might save you money.
A pegboard can make a great place to hang jewellery or medals. Paint it the same colour as the wall.  If you prefer decorate it and make it a piece of artwork to hold your items.

A magazine holder can be used on a shelf, standing up or laying down to hold paper products in your kitchen, wax paper, baggies, parchment paper, plastic wrap etc.
Muffin tins can be used to hold paint

Egg cartons are good for jewellery or small craft items, beads, "googly eyes", stickers, glitter. It also makes a good desk drawer organizer for tacks, paper clips, binder clips, keys, etc
Plastic containers from fruit, vegetables, take-out food, and baby wipes can be used to hold markers, pencil crayons and pens
Dressers make great entryway storage places.  Paint or decorate it to match your entryway and then use the drawers to store, keys, sunglasses, sunscreen, scarves, mitts, hats, baseball caps etc.

Icing containers.  If you buy icing in the grocery store they are great containers for storing pens and pencils on your desk.  Once the label is removed it is a beautiful white container.
Cleaning Caddy can be used to hold art supplies.  Use the icing containers to hold crayons, rulers, pencils, stamps, glitter glue.  Add scissors, glue, tape, and stapler and you can take your art supplies anywhere.

Laundry hampers can be used to store extra pillows or blankets.  It is a great way to keep them neat, clean and out of the way until they are needed for company, watching TV, or laying by the fireplace.
Picture frames can be turned into chalkboards, whiteboards or magnetic boards by painting the cardboard or wood insert with specialized paint.  It comes in lots of colours.
Leave a comment and let me know what best thing you have repurposed and its new use.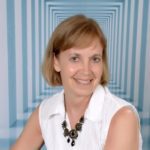 Julie Stobbe is a Trained Professional Organizer and Lifestyle Organizing Coach who brings happiness to homes and organization to offices,  virtually. She has been working with clients since 2006 to provide customized organizing solutions to suit their individual needs and situation. She uses her love of physical activity to reduce clutter, in your home and office. She guides and supports you to manage your time. If you're in a difficult transition Julie can coach you to break-free of emotional clutter constraining you from living life on your terms. Online courses are available to help instruct, coach and support your organizing projects. Get started by downloading Tips for Reorganizing 9 Rooms.
Contact her at julie@mindoverclutter.ca
Click here to learn more about her online course Create an Organized Home.
 Twitter – Facebook – Facebook group Organizing Mind and Space