The truth about multitasking
Do you feel like you have too many tabs open in your brain?
Psychologists have described flow as an ecstatic feeling, being totally engaged with an activity you enjoy. Good productivity habits minimize interruptions in flow.
The average American uses up to 3 mobile devices daily. The untethering of people to these devices has made productivity shoot up. Multitasking slows down your productivity because moving from unfinished task to unfinished task means every time, you need to look back to see where you left off and where to start and all those seconds add up to minutes decreasing your productivity by up to 40%.
Only about 2% of people can successfully multi-task
Click To Tweet
Slow down to be more productive
People also need time to think and reflect on their work so they can be more intentional and less reactive.
Sometimes, task switching is unavoidable –  an important phone call at work or children hurting themselves at home. Whenever it's possible, try to limit distractions and block out time to work on a specific task, and only that task.
Multi-tasking is seen as a badge of honour but really, it slows down everything and creates open loops in the day.  Reteaching yourselves and your children how to focus on one thing at a time is going to be the single most critical skill for the next few decades.  When focus remains on a single task, it can be completed, producing a sense of accomplishment and confidence.
Physical vs mental multi-tasking
Brain research indicates that you can have several motor programs running at the same time. (Your Creative Brain ) So you can steer your car, talk to passengers and adjust your rearview mirror simultaneously. Unfortunately, you can only focus your conscious mental attention on one of these things at a time. You can multitask physically, but not mentally.  We think sequentially so we should work sequentially.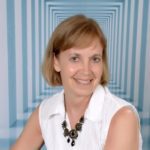 Julie Stobbe is a Trained Professional Organizer and Lifestyle Organizing Coach who brings happiness to homes and organization to offices, virtually using Zoom. She has been working with clients since 2006 to provide customized organizing solutions to suit their individual needs and situation. She uses her love of teaching to reduce clutter, in your home, office, mind and time. She guides and supports you to be accountable for your time, to complete projects and reach your goals. If you're in a difficult transition Julie can coach you to break-free of emotional clutter constraining you from living life on your terms. Online courses are available to help instruct, coach and support your organizing projects. Get started by downloading Tips for Reorganizing 9 Rooms.
Contact her at julie@mindoverclutter.ca
Click here to learn more about her online course Create an Organized Home.
 Twitter – Facebook – Facebook group Organizing Mind and Space