11 Tips for organizing your lists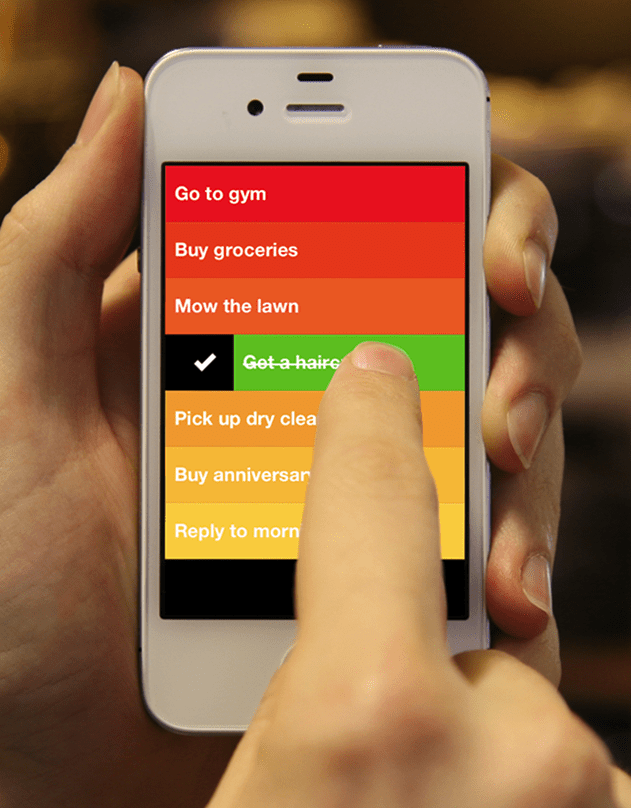 Do you spend valuable time making a to-do list and it doesn't seem to help you get anything done? Does that list keep getting longer and longer? There are many ways to keep track of tasks you need to complete.  Bullet Journaling, apps, notebooks, lists or recording a list on your phone.  No matter how you record your list here are some tips to help you become more productive.
11 To-Do List Tips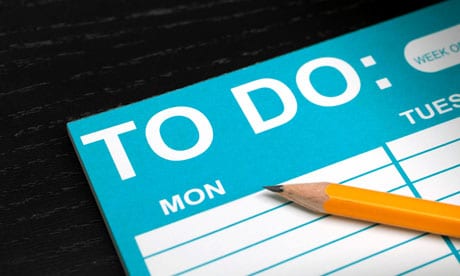 These suggestions are from "Don't Agonize, Organize Your Office" by Diane A. Hatcher.
Make an Action list, Today's Goals list or give it a title that motivates you.
Make a tomorrow's list before you finish your day and throw out the old list and start fresh daily.
Lists help you to focus and this increases productivity.
For lists or calendars to help you be more productive you need to use them consistently.
Write down anything on your list you don't want to forget and cross off items as they are completed to help you achieve a sense of satisfaction.
If a list is longer than 10 items focus on priorities and meeting due dates.
Record individual tasks on your list, not projects.
Look at the list often and keep it visible in the same location every day.
Double the amount of time you think each task will take to prevent over scheduling.
Use one calendar to record all your appointments, due dates and deadlines. Refer to the calendar when you prepare the action list for the next day.
Prioritize by time blocks. Choose tasks off your list that can be accomplished in the time you have at hand. Also, consider your energy level when you are selecting the task to complete.
Kanban System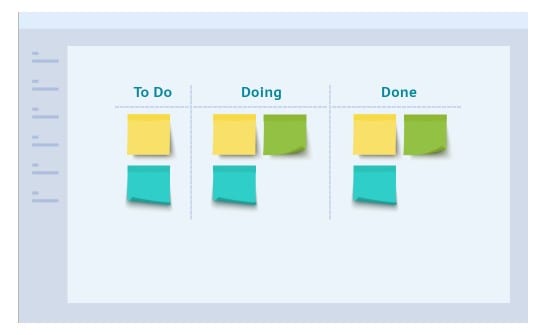 What happens if your list has more than 10 items and you're afraid you will forget something if it is not on the list? There is a Japanese system called Kanban.  This is a good system for visual people and for projects.
Place your list of items you don't want to forget about in the To-Do column
You pick 3 tasks you will be working on at any one time and move them to the doing column.
You can only add a task from the To-Do column to the Doing column when you complete one.
Using Post-its on a whiteboard, arrange in columns:  "To-Do",  "Doing",   "Done".  There should never be more than three notes in "Doing".
You can add a "Waiting" column if you are waiting on other people to send you information.
Let me give you an example.  During the pandemic when my area has a stay at home order, and lockdown, I work on my new online course, Create an Organized Home.  At the beginning of the project, all of these items were in the To-Do column,  I picked items to work on and move them to the Doing column and as they are completed they are moved to the Done column.  The nice thing about the Done column is I can check and see if I missed something and put it in my To-Do Column.
To-Do
 Doing
 Done
Update my website         Proofread the material      Learn to write a course
Market my course           Check settings               Write the course
Add SEO to each page                                              Find the best software
Determine price                                                        Put course on software
Release course                                                         Make videos
Your To-Do column is a holding area for all those things you need to get done not just related to one project as in my example. The Doing column is the high priority items to work on that day.  The Done column lets you know you are meeting your deadlines and gives you a sense of accomplishment.  Using this system you don't need to keep rewriting your list.  Move the Post-it note from one column to the next.
However you structure your list you can only do a small number of tasks at once. Whether it is a list on paper, a digital list, journal or post-it notes,  set your priorities for the day, work on them first so you don't get distracted by less important tasks and refer to your list frequently.
Let me know in the comments how you structure your To-Do lists.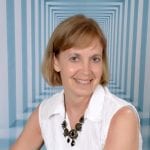 Julie Stobbe is a Trained Professional Organizer and Lifestyle Organizing Coach who brings happiness to homes and organization to offices, virtually. She has been working with clients since 2006 to provide customized organizing solutions to suit their individual needs and situation. She uses her love of physical activity to reduce clutter, in your home and office. She guides and supports you to manage your time. If you're in a difficult transition Julie can coach you to break-free of emotional clutter constraining you from living life on your terms. Get started by downloading Tips for Reorganizing 9 Rooms.
Contact her at julie@mindoverclutter.ca
 Twitter – Facebook – Facebook group Organizing Mind and Space
Click here to learn more about working with a Professional Organizer.