How do you Organize a Successful Transition to a New Work Situation?
Today I am happy to introduce you to Janet Barclay of Organized Assistant.
Here is her  story of following her passion and successfully transitioning her business focus.  I hope it will motivate you to take a step towards making changes in your life, work or business.
When I first met you, you were a Professional Organizer.  What did you do before becoming an organizer and how did you choose to become a professional organizer?
Before starting my business, I worked as a customer service rep, office supervisor, administrative assistant, computer instructor, and employment counsellor. When I was an employment counsellor, I decided to take the Myers-Briggs Type Indicator Qualifying Program. Because the MBTI is a widely used career assessment tool, I thought it would be a good thing to have on my resume.
In the course, I learned that our personality type influences not only our career choices, but many other aspects of our lives, and I was particularly fascinated with the way that personality type affects the way we deal with time and space. I was so excited by the possibilities that I wasn't satisfied to simply have the MBTI listed on my resume – I wanted to actually use it! Since there was no opportunity to do so in the position I held at the time, I decided to start a side business where I would use my new knowledge to help others choose a career or become more effective by using organizing strategies that respect their natural preferences.
How long was it before you transitioned from being a professional organizer to becoming a virtual assistant?  How did you make that business transition?
A year or so after becoming a professional organizer, one of my organizing colleagues hired me to automate her monthly newsletter. At that moment, I realized that you can organize someone's workspace, and you can teach them good time management skills, but sometimes the best way to help them is to free up some of their time.
This was a real turning point for me, and I began adding virtual assistance and website design (which I'd also been doing on the side for several years) to my professional organizing service offerings. I enjoyed this type of work so much that I resigned from my job to work in my business full time. As my client base grew, organizing became less important and eventually I gave it up altogether.
When transitioning your business services, what do you feel is one mistake you made or something you could have done better to make the transition easier?
When I decided to become a virtual assistant, I had to change my business name from Barclay Career & Organizing Solutions to something more in line with my new service offerings. I chose Organized Assistant, because it was something I could stick with in the event I decided to discontinue either organizing or virtual assistance down the road.
The transition itself went pretty smoothly, because it was gradual and my business seemed to evolve naturally. However, over the past few years, I've become less of a virtual assistant and more of a marketing consultant and web designer, and my business name no longer feels like a good fit. Had I anticipated further changes, I would have simply branded myself as Janet Barclay.
Although you are still a virtual assistant the focus of your business is changing again.  Tell us about your new focus?
I've always enjoyed working with solopreneur women, and they seem to enjoy working with me too. However, solopreneurs tend to look after their own marketing, either for financial reasons or simply out of personal preference. In order to cater to their needs, earlier this year I founded Maximize Marketing Club. In this supportive online community, members learn and develop important marketing strategies for less than the cost of a virtual assistant, and much less than a one-on-one marketing coach.
How important is it, in making a successful business transition, to start a networking group and/or an online group?
Building a network is essential no matter what stage you're at in your business. When you're making a transition, a well-established network of supporters can help you test your ideas and spread the word about your new products or services.
Is there anything else you would like us to know?
I'd like to invite any of your readers who'd like a free taste of Maximize Marketing Club to sign up for my free Maximize Your Content Marketing eCourse at http://maximizemarketing.club/.
If you need assistance with your website or marketing please contact Janet Barclay.
___________________________________________________________________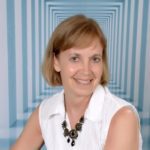 Julie Stobbe is a Trained Professional Organizer and Lifestyle Organizing Coach who brings happiness to homes and organization to offices, in person and virtually. She has been working with clients since 2006 to provide customized organizing solutions to suit their individual needs and situation. She uses her love of physical activity to reduce clutter, in your home and office. She guides and supports you to manage your time. If you're in a difficult transition Julie can coach you to break-free of emotional clutter constraining you from living life on your terms. Online courses are available to help instruct, coach and support your organizing projects. Get started by downloading Tips for Reorganizing 9 Rooms.
Contact her at julie@mindoverclutter.ca
Click here to learn more about her online course Create an Organized Home.
 Twitter – Facebook – Facebook group Organizing Mind and Space