Need a New Style Binder for Organizing?
Samsill  2-in-1 and 3-in-1 Organizers
Samsill has a 2-in-1 organizer and a 3-in 1-organizer.   They are binders with a section of 7 clear plastic accordion style dividers and a fold-over cover with an elastic closure to hold the organizer closed.  They come in a variety of colours.
There are very few differences between the 2 products.  The 3 in 1 organizer has 4 slide out clips that allows you to hang the binder in your filing cabinet.  The clips lock into position making it easy to use them. This function makes storing the files neat, tidy and easy to retrieve.  No more shelves of binders that slide and tip over every time you remove one.
The 2-in-1 organizer has tabs on the top of each file section making it easy for labeling. It also has 2 elastic closures so you can open just the file section or just the binder section.  This is helpful as it prevents any loose papers from falling out when you open the binder section.
In addition to the clips to hang in a filing cabinet, the 3-in-1 organizer has tabs only on 3 file sections for easy labelling and one elastic closure.
The fold over lid is quite stiff and initially caused me some problems but if you fold it open and re-crease the fold the lid will stay back and make it easy to access the plastic file section.  The files hold paper that is exactly 8 ½  by 11 inches.  If you have manuals or slightly large paperwork you may need to trim it.
At first, you may be fooled and think the elastic closure won`t stay closed because the elastic is loose. The elastic closure works well when the organizer contains paperwork making the elastic tighter.
The file sections are open at the bottom edge, it is not a pocket.  Some small items may slide under the edge and into the next section.  If this is a problem for you try using an envelope to hold small items in the file section. The dividers are flexible and bend slightly making it hard to get the paper to slide easily into the correct section.  As you get used to it and you have more paper in the sections it becomes quite easy to use.
This may be the perfect product if you have large client files.  You can record your ongoing notes, to-do lists, reference information in the binder section and use the file section for billing, receipts, marketing material, information to give to the client, calculator, and iPad.etc.  It would also be a great networking tool.  You can have a place for notes, following up with clients after a meeting, recording upcoming events and to-do lists and filing all your marketing material. It would always be ready to go when a networking event arises.   Having the binder and file system in one organizer gives you the flexibility of storing paperwork in the way that suits your preferred style and the paper best. You can pick it up and go and look like you are ready to work.
If you need help setting up a filing system contact me at julie@mindoverclutter.ca.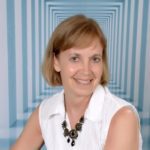 Julie Stobbe is a Trained Professional Organizer and Lifestyle Organizing Coach who brings happiness to homes and organization to offices,  virtually. She has been working with clients since 2006 to provide customized organizing solutions to suit their individual needs and situation. She uses her love of physical activity to reduce clutter, in your home and office. She guides and supports you to manage your time. If you're in a difficult transition Julie can coach you to break-free of emotional clutter constraining you from living life on your terms. Online courses are available to help instruct, coach and support your organizing projects. Get started by downloading Tips for Reorganizing 9 Rooms.
Contact her at julie@mindoverclutter.ca
Click here to learn more about her online course Create an Organized Home.
 Twitter – Facebook – Facebook group Organizing Mind and Space