How to organize your bedroom to get more space.
Reading time – 7 minutes
Start by determining any special uses for the bedroom (e.g., home office, baby's crib and supplies, etc.)  Only have items in the bedroom that serve the purpose of the room.  Remove all other items.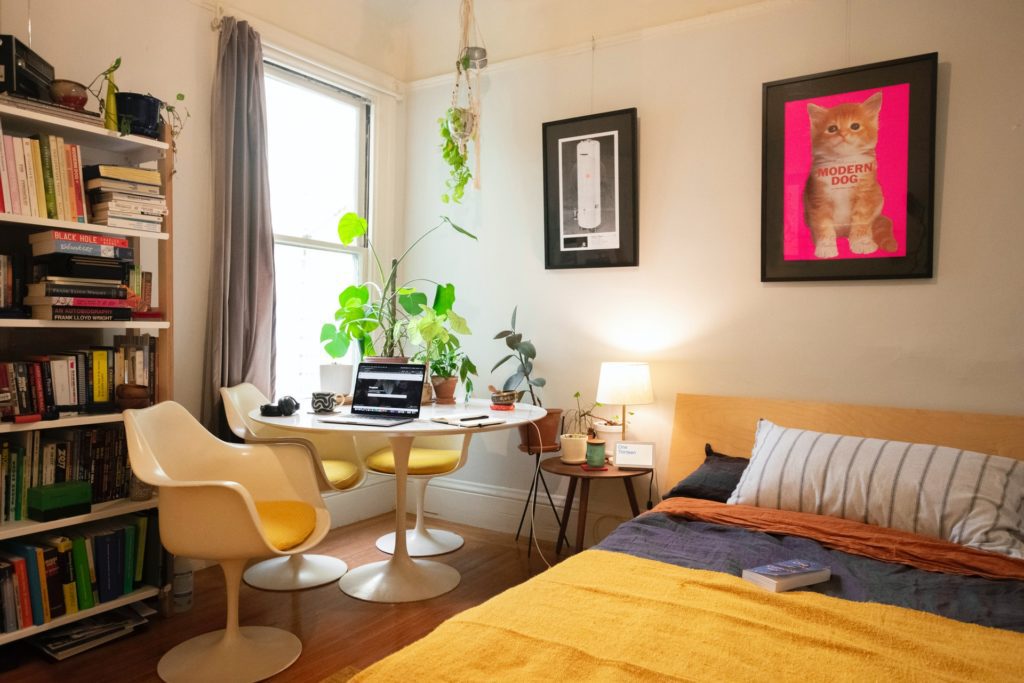 Closet
It is easy for bedrooms to become the collection spot for all sorts of items.  Piles form. When you declutter the bedroom, start with your clothing.  Hang up clothing in a closet or on a rack. Place other clothing in a dresser or on shelves. Keep the clothing you like wearing, you get compliments when you wear it and that suits your lifestyle.  Have a place to put dirty laundry.  Double your hanging space by installing a lower hanging bar.  Add an extra shelf up high in the closet to store off-season items.
Under the bed 
Under-bed storage containers are very helpful for oversized items or off-season clothing.  You can raise your bed to create more storage by using bed risers to lift the bed up.
Bedside stand
A nightside table with a drawer and shelf or cupboard will provide more storage than a table. The nightstands in a bedroom tend to collect clutter.  Frequently clear off the surface and declutter the drawers.  Decide what is important to have handy.  Do you need a book, tissues, medication, charging station or water bottle?
Vertical space
Use vertical space to add more storage.  An armoire or high-boy may suit your room better than a long, low dresser.
Doors
Use the inside of the bedroom and closet doors to hang items.  Over-the-door rack and hook products accommodate shoes, jewellery, scarves, ties, etc. Try using a shoe organizer. 
Bedding
Reduce the amount of bedding to a minimum.  Have 2 sets of sheets one on the bed and one extra set. If you need to store sheets in the bedroom try using the shelf in your closet.  Fold the 2 sheets and pillowcase and slide them inside the other pillowcase.  You have a nice contained set of sheets that are easy to store. Recycle sheets with stains and holes. Donate sheets you don't use, that are the wrong size and mismatched. Have a lightweight blanket for warm weather and a heavy blanket for cooler seasons.
Cosmetics
Cosmetics can also pile up on bedroom surfaces.  Use a container to store the cosmetics and make them look attractive.  Try repurposing a silver chest. Check expiry dates, remove expired items and products you no longer use.  Try to relocate some of the cosmetics to the bathroom.
Jewelry
Jewelry is another area to consider.  There are nice trays that can fit in drawers, boxes to sit on a dresser and wall-mounted cabinets to store the jewelry you use frequently.  Go through your jewelry and make sure you still love it, it is not broken and it is clean. Donate or sell jewelry that you no longer wear, fads that have come and gone and jewelry that doesn't fit.
Custom Designed Closets
I always suggest that you first decide how you will store things in your room before having renovations done. Once you know what types of shelves and spaces you need to hold everything you might want to get a custom build closet.   It can be a wardrobe specifically designed to your unique preferences and individual requirements. This could include walk-in spaces, lighting, and multiple interior features. You can find out more about this level of customization by speaking with a professional contractor.
In most cases, the bedroom is used for relaxing and sleeping. Find new places for all the items that don't belong and create a tranquil space.  I think I have considered all the areas in the bedroom.  Did I miss anything?
Let me know which tip you liked best and add your own tip in the comment box.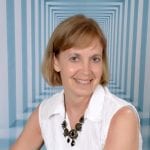 Julie Stobbe is a Trained Professional Organizer and Lifestyle Organizing Coach who brings happiness to homes and organization to offices, in person and virtually. She has been working with clients since 2006 to provide customized organizing solutions to suit their individual needs and situation. She uses her love of physical activity to reduce clutter, in your home and office. She guides and supports you to manage your time. If you're in a difficult transition Julie can coach you to break-free of emotional clutter constraining you from living life on your terms. Online courses are available to help instruct, coach and support your organizing projects. Get started by downloading Tips for Reorganizing 9 Rooms.
Contact her at julie@mindoverclutter.ca
Click here to learn more about her online course Create an Organized Home.
 Twitter – Facebook – Facebook group Organizing Mind and Space