Smart Organizing – Simple Strategies for Bringing Order to Your Home
Sandra Felton, the organizer lady, is the author of this very practical book to help people bring order to their life. The book helps people to "reach their organizational goals in the simplest way possible.  This is why I recommend the book.  The book is full of people's stories, quizzes, tips and practical solutions to suit a variety of personalities.
She focuses on planning.  I recently twitted "hope is not a plan".  She outlines how to develop a plan that is right for the person, how to work with the plan getting each space in the house organized and how to live with the plan and maintain the new organized life.
Here are some of the tips that appear in her book.
Bathroom
If a bathroom is shared by several children and is cluttered with their things, get them their own coloured basket for toiletries.  Each child can take it back and forth to the bedroom leaving the bathroom clear.
Garage
Use the walls to hang up smaller items you need more often.  Put up a peg board in the garage and use S- hooks to hang up gardening equipment, tools and sports equipment.
Laundry Routine
If you do laundry for a number of people, refuse to wash unpaired socks.  Insist that everyone pins each pair of socks together with a sturdy safety pin or those little plastic circles into which some sock pairs will slip.  If they aren't paired you won't wash them.  Now no more pairing socks.  Another good idea is to colour code socks.  Buy a different colour band or sock for each individual and let him or her match their socks.
Sandra Felton encourages," spending less time and energy on the mechanics of living and  giving more time for more significant pursuits." Her books help people to be successful at this.
If you need help getting organized book a complimentary 30 minute chat with me on Zoom.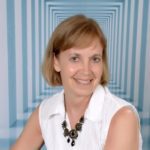 Julie Stobbe is a Trained Professional Organizer and Lifestyle Organizing Coach who brings happiness to homes and organization to offices, in person and virtually. She has been working with clients since 2006 to provide customized organizing solutions to suit their individual needs and situation. She uses her love of physical activity to reduce clutter, in your home and office. She guides and supports you to manage your time. If you're in a difficult transition Julie can coach you to break-free of emotional clutter constraining you from living life on your terms. Online courses are available to help instruct, coach and support your organizing projects. Get started by downloading Tips for Reorganizing 9 Rooms.
Contact her at julie@mindoverclutter.ca
Click here to learn more about her online course Create an Organized Home.
 Twitter – Facebook – Facebook group Organizing Mind and Space