Organize Your Work Schedule with an Interruption-Free Hour
With many people working from home, it is important to have time when you're not interrupted.  Make sure to have a sign or signal that indicates you are unavailable.
Many people realize that multitasking is not the best way to get work completed.  However, they experience many small interruptions in their day, e-mail, texting and phone calls that take away from concentrating on a project.
"Drive by" conversations, when colleagues stop by your desk, stop you in the hall or a family member bursts into your office and gives you information also take time away from completing important tasks. As well the information may be forgotten or lost.
Some offices have designated a specific time of the day for working on projects. It is an interruption-free time to concentrate on work during which employees can't send or answer emails, texts, phone calls, attend meetings, etc.  Each office is different so the designated time may be office-wide or scheduled into each person's work day, week, or month individually.  It is important that this time and format are respected by your colleagues, family and supported by management.  You may be surprised how much you can get done in one hour without interruptions and your full concentration on one task at a time.
How do you plan on scheduling interruption free time?  Let me know in the comments.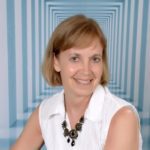 ulie Stobbe is a Trained Professional Organizer and Lifestyle Organizing Coach who brings happiness to homes and organization to offices, virtually using Zoom. She has been working with clients since 2006 to provide customized organizing solutions to suit their individual needs and situation. She uses her love of teaching to reduce clutter, in your home, office, mind and time. She guides and supports you to be accountable for your time, to complete projects and reach your goals. If you're in a difficult transition Julie can coach you to break-free of emotional clutter constraining you from living life on your terms. Online courses are available to help instruct, coach and support your organizing projects. Get started by downloading Tips for Reorganizing 9 Rooms.
Contact her at julie@mindoverclutter.ca
Click here to learn more about her online course Create an Organized Home.
 Twitter – Facebook – Facebook group Organizing Mind and Space